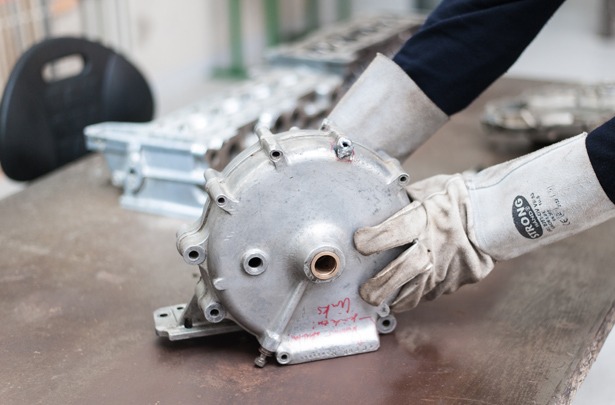 BEYOND THE NORM: RESTORING AUTO BODIES, WELDING CLASSIC CARS AND MORE
OUR SOLUTIONS: AS DISTINCT AS YOUR DEMANDS
Do you spend your free time on classic cars or old motorcycles and want a reliable welding provider? Do you manufacture jewelry and want to outsource the welding?
Even if the quantities aren't large: We handle your order with the same care and high quality standards that our industrial customers have come to appreciate — whether it's prototyping, restoration or repair.
LASER AND TIG WELDING FOR INDIVIDUAL CUSTOMER ORDERS
Repair welding after accidents or wear
Repair welding is a service that is especially close to our hearts.
Whether it's everyday objects from private customers or components for companies:
Repair contributes to efficient use of resources and is an inexpensive alternative to a new purchase.
Our job is done when a component or product has been brought back to fully functional condition.
Depending on the material and workpiece, either TIG welding or laser welding is used. Thanks to our experience, we know exactly which technology will get the best results.
An excerpt from our catalog of individual welding orders:
Welding broken eyeglass frames
Contract work for watchmakers and goldsmiths
Welding of defective cooking utensils
Contract work for model railroad buffs
Repair of model cars and aircraft
From body work and classic cars to repair of model cars and aircraft, we handle individual welding orders. How can we help you?
TIG, MIG/MAG welding
The TIG welding process is used when various materials are to be combined or thin sheets, such as aluminum or stainless steel, need to be welded. The technology is suitable for all metals.
The MIG and MAG welding processes are very suitable for manufacturing or repairing heavy steel constructions, such as auto chassis and body fabrication. If you need repairs or modifications to the components of your motorcycle or classic car, we even take individual orders.
TIG, MIG/MAG welding
Laser welding
FAST, EFFICIENT, HIGH-PRECISION
Laser welding is an innovative welding process for joining metal components. Energy is fed through a high-performance laser. Thanks to the high, focused application of energy in a small space, the material melts in fractions of a second — and solidifies again just as quickly. Depending on the order, and the functionality intended for the component, weld seams are made with or without welding filler. At our company, two different laser welding processes are used: pulsed laser welding and CW laser welding.
Laser welding
EXAMPLES OF INDIVIDUAL WELDING JOBS
L&A Lasertechnik und Applikationen
SPECIALIST IN LASER APPLICATION TECNOLOGY AND SALES AND SERVICE PARTNER OF ALPHA LASER GMBH IN EASTERN GERMANY
Our welding experience in tool and die manufacturing began in 1990. The technology showed promise for that industry, and as a service provider, we have gained many customers all over Germany through its practical implementation.
With sound knowledge and modern machinery, we meet the needs of customers in industries such as: mechanical engineering, medical technology and sensor manufacturing.
Learn more about us.