L & A Lasertechnik & Applikationen GmbH
Developing technologies — combining competencies
L & A Lasertechnik und Applikationen GmbH is one of the leading specialists in laser technology, laser deposit welding and stainless-steel welding in central Germany.
It is headquartered in Moritzburg, near Dresden, and its product and service portfolio also includes laser engraving and inscription in 2D or 3D processes.
With our very modern fleet of machines and an experienced team, we are up to any challenge. This includes process and product development, manufacturing joining technology for prototypes and series production.
WHAT IS LASER WELDING?
Welding seams with pinpoint accuracy — even on hard-to-reach workpieces.
In laser welding, the energy for heating the components to be joined is supplied by a laser. Over the past 20 years, joining technology has developed fast, and it is now indispensable to industrial production. It is used wherever there is need for high welding speed, pinpoint-precise weld seams, and minimal thermal distortion.
It is also good for working on hard-to-reach components. Laser welding can handle any metallic material. Laser deposit welding works mainly with aluminum and stainless steel.
Advantages of laser welding at a glance:
Extremely thin weld seams with no rework
Consistently high quality
Heating of workpiece locally restricted, barely any secondary heat
Can join metals with different melt points
Can process very thin, delicate workpieces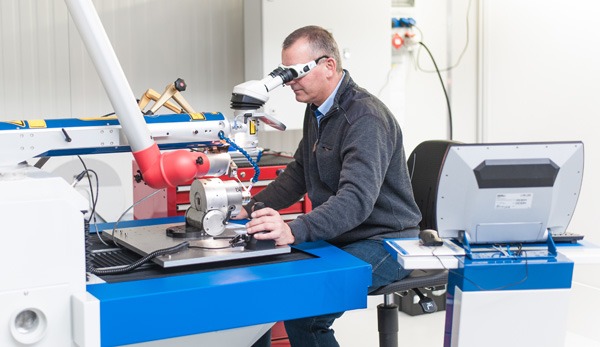 In Boxdorf (near Dresden), we currently employ 15 people and are ISO 9001:2015 certified. Our core business is laser welding, including TIG, MIG/MAG welding. We also specialize in laser inscription and engraving. We are seeking a laser welder to add to our team as soon as possible.
To the job offers
L&A Lasertechnik und Applikationen
Specialist for laser application technology as well as sales and service partner of ALPHA LASER GmbH for Eastern Germany
Our welding experience in tool and die manufacturing began in 1990. The technology showed promise for that industry, and as a service provider, we have gained many customers all over Germany through its practical implementation.
With sound knowledge and modern machinery, we meet the needs of customers in industries such as: mechanical engineering, medical technology and sensor manufacturing.
Learn more about us.
We look forward to hearing from you.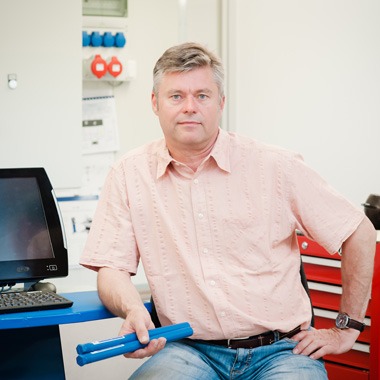 We will find the right solution for your task. Feel free to contact us!
Phone: +49 351 83 97 96 48
E-mail: info@laserknechtel.de
Latest Tips & News
Lorem ipsum dolor sit amet, consectetuer. Proin gravida nibh vel velit auctor aliquetenean. Cum sociis Theme natoque penatibus et magnis dis parturient nascetur ridiculus mus