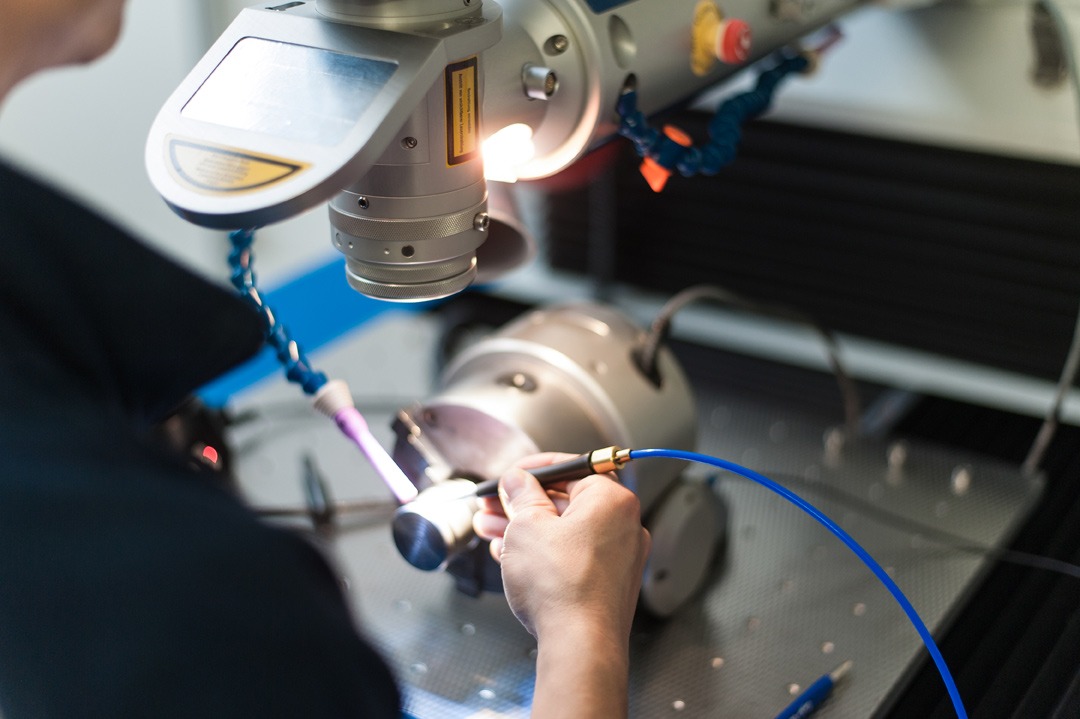 LASER WELDING: FAST, EFFICIENT, HIGH-PRECISION THE ADVANTAGES OF LASER WELDING
What are the advantages of laser welding?
Laser welding is used whenever narrow weld seams, high strength and above-average welding speed are needed. Moreover, laser welding has even more advantages over TIG and MIG/MAG welding:
Minimal thermal distortion
Can process thin, delicate workpieces
Welding seams with pinpoint accuracy, even on hard-to-reach contours
Barely any rework needed
Locally restricted heating of the workpiece, barely any secondary heating
Allows joining of metals with different melt points
Processing is easily reproducible.
HOW LASER WELDING WORKS?
We use the pulsed laser welding and CW laser welding processes.
Laser welding is an innovative welding process for joining metal components. Energy is fed through a high-performance laser. Thanks to the high, focused application of energy in a small space, the material melts in fractions of a second — and solidifies again just as quickly. Depending on the order, and the functionality intended for the component, weld seams are made with or without welding filler. At our company, two different laser welding processes are used: pulsed laser welding and CW laser welding.
PULSED LASER WELDING
With pulsed laser welding, the energy is sent at time-limited intervals. After each laser pulse, there is a short pause, during which the previously created melt can cool off.
Due to low distortion, this fine laser welding process is especially suitable for thin-walled workpieces, especially compared to CW laser welding.
Joining components of very different geometries and hard-to-weld materials is a typical application.
CW (CONTINUOUS WAVE) LASER WELDING
CW (continuous wave) laser welding is also known as deep welding, because this technology can reach greater welding penetration depths. The maximum possible welding penetration depth with our new AL-TW 900F fiber laser is 3 mm.
In contrast to pulsed laser welding processes, energy is supplied continuously during the process and with a higher energy density. Characteristic of CW laser welding are high process speed and uniform root formation.
NOTE ON PROTECTION FROM LASER RADIATION
The basis for handing laser equipment is DGUV regulation 11 — Laser radiation (formerly UVV BGV B2) and the technical rules of the Occupational Safety Ordinance on artificial optical radiation — TROS laser radiation. They apply to generation, transfer and use of laser radiation.
Most important in laser beam protection is protection of the eyes against laser radiation, because eye damage is irreparable. We will be happy to advise you on protection measures and laser protection equipment. Just ask us!
WHAT INDUSTRIES IS LASER WELDING USED IN?
Your partner for laser material processing in industry and skilled trades.
The application possibilities for laser welding technology are very diverse and range from joint welding of bellows with connection fittings to complex vacuum technology assemblies, all the way to components for antenna systems.
In manufacturing plate heat exchangers and other multilayer assemblies, we use the LAfet® wire feed system with continuous weld metal output of the finest quality.
In medical technology, laser welding is very important, because it allows pinpoint accuracy when working on small workpieces. There we work with materials such as titanium and fully austenitic, highly corrosion-resistant stainless steels, as well as platinum, tantalum and other noble metal alloys.
Seal welds for fittings in medical systems or joint welding of various materials are also possible. This is where our experience in laser welding stainless steel comes into play.
In tool and die manufacturing, laser welding focuses on carbon steel.
We give your workpieces contour, change shapes, apply edges or repair mold dies. Typical applications include:
Contour changes
Correcting worn component geometries
Repairing and modifying mold inserts
Repairing die casting molds
Removing discontinuities in castings
Substitution of heavily used functional areas, and much more u. v. a.
Components for media-carrying systems in the aircraft industry, and many different applications in sensor technology round out the manufacturing portfolio.
Are you looking for a reliable partner for stainless steel welding or laser welding of aluminum? We're a partner you can count on — both in contract and series production.
MOBILE LASER WELDING
PINPOINT ACCURATE WELD SEAMS, EVEN ON HARD-TO-REACH WORKPIECES
In mobile laser welding with the ALPHA LASER ALM 250, we reverse the traditional processing principle — here the tool comes to the workpiece. Thus, even very large components can be processed, even though there would be no room for them in a standard welding booth.
Mobile laser welding
LASER ENGRAVING AND INSCRIPTION
FOR DELICATE CONTOURS — DISTINCTIVE INSCRIPTIONS
With laser engraving, high-energy laser radiation marks the surface of a material. The technology can be used for a broad range of materials. Whether it's metals, plastics, ceramics, glass or graphite electrodes, they can all be processed with the laser. Equally diverse are the options for engraving or inscribing individual or serially produced parts.
LASER ENGRAVING AND INSCRIPTION
Frequently asked questions and answers.
Which laser welding processes do you use?
We offer pulsed laser welding and CW laser welding.
What machines do we use to process your orders?
For laser welding, we use lamp-pumped Nd:YAG lasers (300 W) and fiber lasers (600 W or 900 W) from ALPHA LASER.
In arc welding, we work with TIG and MIG/MAG welding equipment from REHM Schweißtechnik.
For 2D inscribing and 3D engraving, we use a FOBA lamp-pumped Nd:YAG laser engraving system.
What materials can we weld for you?
We weld tool steels, stainless steels, low-alloy steels, aluminum alloys, multi-material bronzes, Ampco and Ampcoloy alloys, magnesium alloys, titanium, tantalum, platinum-rhodium alloys, gold, silver, copper, nickel alloys, steel and gray cast iron alloys.
Which differing pairs of materials can be welded?
Among others, we have done black-and-white joints (low-alloy steel with stainless steel) and copper-stainless steel joints. With deposit welding, it is possible to create functional areas on low-alloy or tool steels with certain multi-material bronzes.
Can cast iron be welded?
There's no one answer to that. In such cases, we decide on weldability based on the variety of alloy types and qualities, the age of the component and its functionality after thorough incoming inspection and a test weld. Most components of the materials mentioned are good for joint and deposit welding Which welding process (laser, TIG, MIG/MAG) is used is evaluated and specified individually. Contact us — we'll be happy to advise you!
Can cast steel or cast aluminum be welded?
Most components of the materials mentioned are good for joint and deposit welding Which welding process (laser, TIG, MIG/MAG) is used is evaluated and specified individually.
What materials cannot be welded with the laser process?
Die-cast zinc, magnesium, molybdenum, tungsten and brass can't be laser-welded.
Can we rework (recontour) welded areas?
Our toolmakers can adjust small areas by hand. For further processing of your welded components, we can recommend partner companies nearby.
Is L & A Lasertechnik und Applikationen GmbH certified?
What internal transport options are available at our site?
– Hall crane with trolley, capacity 3.25 t
– Electric stacker with triplex mast (1.5 t)
– Manual stacker truck (1.0 t)
– Hand pallet truck (2.5 t)
What does "mobile laser welding" mean?
We use our ALPHA LASER ALM 250 mobile laser welding device to weld at your site. This saves you expensive transport of very large components. You can find more information in the "Mobile Laser Welding" section.
L&A Lasertechnik und Applikationen
SPECIALIST IN LASER APPLICATION TECNOLOGY AND SALES AND SERVICE PARTNER OF ALPHA LASER GMBH IN EASTERN GERMANY
Our welding experience in tool and die manufacturing began in 1990. The technology showed promise for that industry, and as a service provider, we have gained many customers all over Germany through its practical implementation.
With sound knowledge and modern machinery, we meet the needs of customers in industries such as: mechanical engineering, medical technology and sensor manufacturing.
Learn more about us.