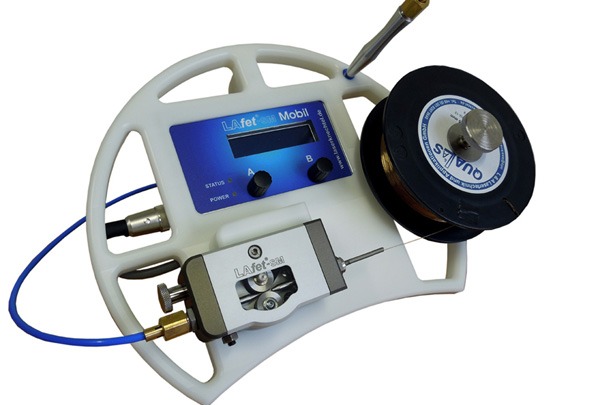 LAFET®-SM MOBIL: THE MOBILE WIRE FEED SYSTEM FOR YOUR MANUAL LASER WORKSTATION
ARGUMENTS FOR THE LAFET®-SM MOBIL WIRE FEED SYSTEM:
Can be used on any manual laser workstation
Mechanized wire feed (uniform and constant), but individually positionable at any time
Fewer weld seam starts thanks to wire feed
Intuitive operation, wire feed through contact with the workpiece
Compact dimensions, easy transport, quick to use
THE MOBILE WIRE FEED SYSTEM FOR YOUR MANUAL LASER WORKSTATION
Mobile wire feed: How LAfet®-SM Mobil works
The LAfet®-SM Mobil wire feed device's handle is used to feed the laser welding wire to the melt under the direct observation of the laser welder. The wire feed is started or ended by contact or isolation of the laser wire tip with the weld component.
The speed of LAfet®-SM Mobil's wire feed can be changed while welding is going on.
Positioning of the end of the wire on the capillary nozzle is motor-driven with the appropriate control box function.
After insertion of a new laser wire spool, the free end of the wire is manually introduced through the drive unit to then be motor-transported through the duplex capillary hose and handle through to the nozzle tip.
TECHNICAL DATA
CAPILLARY HOSE
øi 0,8 x 1.100 mm long
WEIGHT
approx. 2.9 kg (not including spool)
WIRE MATERIALS
low- and high-alloy steels, suitable aluminum alloys, bronzes, noble metal alloys
CONTROLS
LAfet®-SM Mobil control box
ELECTRICAL CONNECTION
110 – 240 V / 50-60 Hz at 24 VDC
QUESTIONS OR REQUESTS?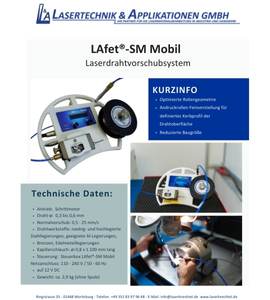 LAfet® SM Mobil
Here you can find the product data sheet for the mobile wire feeding system LAfet® SM Mobil.
product sheet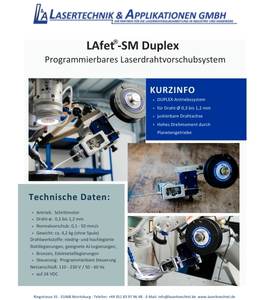 LAfet® SM Duplex
The product data sheet for the LAfet® SM Duplex automatic wire feeder as download.
product sheet
We'll be glad to advise you on LAfet® wire feed systems.
AUTOMATIC WIRE FEED SYSTEMS
LAFET®-SM AND LAFET®-SM DUPLEX
Process safety and the greatest reproducibility of laser welding with optimized welding time. Our internally developed wire feed units provide automatically controlled, constant, consistent wire feed to the laser.
The slip-free feed makes the welding process safer, shortens welding time, and decreases the number of weld seam starts. The process parameters are freely selectable, and operation is intuitive.
AUTOMATIC WIRE FEED SYSTEMS
QUALAS® WELDING FILLERS
A TRADEMARK OF L & A LASERTECHNIK UND APPLIKATIONEN GMBH
You can get the best results in combination with the QUALAS® welding fillers we have developed in collaboration with experienced metallurgists, users and welding filler manufacturers.
On request, we also supply our QUALAS® welding fillers with marking: In this case, the material number according to EN 10027-2:1992-09 is engraved on the wire surface and is therefore permanently recognizable.
QUALAS® laser welding wire
L&A Lasertechnik und Applikationen
SPECIALIST IN LASER APPLICATION TECNOLOGY AND SALES AND SERVICE PARTNER OF ALPHA LASER GMBH IN EASTERN GERMANY
Our welding experience in tool and die manufacturing began in 1990. The technology showed promise for that industry, and as a service provider, we have gained many customers all over Germany through its practical implementation.
With sound knowledge and modern machinery, we meet the needs of customers in industries such as: mechanical engineering, medical technology and sensor manufacturing.
Learn more about us.