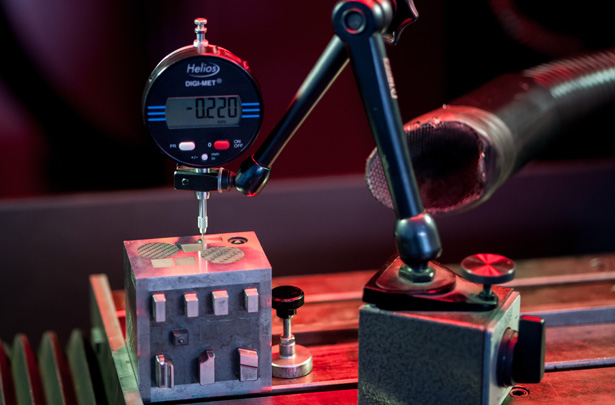 DELICATE CONTOURS — DISTINCTIVE INSCRIPTION
HOW DOES LASER ENGRAVING WORK, AND WHAT MATERIALS CAN BE ENGRAVED?
With laser engraving, high-energy laser radiation marks the surface of a material.
The technology can be used for a broad range of materials. Whether it's metals, plastics, ceramics, glass or graphite electrodes, they can all be processed with the laser. Equally diverse are the options for engraving or inscribing individual or serially produced parts.
WHAT ARE THE TYPICAL USES FOR LASER ENGRAVING AND INSCRIPTION?
For delicate contours, complex geometries and high-precision inscriptions.
A ballpoint pen with an engraved company logo, engraving of a serial number on a component, or a sports cup engraved with the name of the winner — those are all typical uses of laser engraving. In our image gallery, under "Applications", you'll find more examples of how laser engraving is used.
But even in tool, machine and systems engineering, or production of products for consumers and industry, laser engraving is a genuine alternative to die sinking or milling. Wherever delicate contours, complex geometries or high-precision inscriptions in the form of symbols, graphics, logos or barcodes are to be applied to the component surface, laser engraving is a competitive choice. Laser engraving and inscription are inexpensive, eco-friendly and suitable for a very wide variety of materials. And it prevents mechanical stress on the component.
What CAD data must be provided?
To execute your individual engraving or inscription orders, we need the material specification and the CAD data listed below.
2D laser engraving and inscription:
2D CAD data as *.dxf or *.dwg (AutoCAD R14 format)
1:1 scale
Script, symbols and logos as contours
Intact, closed contours
Standard texts also as text block in correct font, size and position
If fonts are not standard in Microsoft Windows, please include them with delivery
Engraving depth data
Marking and engraving on unusual materials are done on samples ahead of time and checked by the customer before implementation.
For 2D engravings, you can also provide us with 3D data.
If you don't exactly know which engraving data are required, we recommend direct contact with your designer.
3D laser engraving:
3D data, preferably as ProEngineer *.prt file. We work with ProE Wildfire 4.
Compatible formats for data exchange (such as *.stp or *.igs) can also be processed.
We require the part to be processed as a "clean", complete, intact solid with "real engraving" (no surface or wire-frame models, no assemblies).
The volume to be removed (engraving) is also required as a solid, as described above. This must be within the same coordinate system as the aforementioned part.
To reduce the amount of data, please leave out irrelevant details, such as cooling holes.
ENGRAING SYSTEM TECHNICAL DATA:
LOAD CAPACITY
Workpieces up to 600 x 600 x 400 mm (LxWxH) to 400 kg, engravings in cavities up to 160 mm deep (focal distance to lens)
MOVEMENT PATHS
X = 480 mm, Y = 430 mm, Z = 450 mm
POSITIONING PRECISION
On a length of 300 mm +/- 0.050 mm
ENGRAVING FIELD SIZE
118 x 118 mm (f = 163)
ROTATION/SWIVEL UNIT
360°/+90° … -45°-camera system, 3D edge finder for setting up workpieces
TACTILE BUTTON
Depth measurements
LASER TYPE
Nd:YAG 1064 nm, 100–150 watts (max.)
OPERATING MODES
Continuous operation (CW), pulsed operation (QS) 0.1–65 kHz, mixed operation (parameterizable)
QUESTIONS OR REQUESTS?
Whatever you want to do: We're your provider for industrial laser inscription and laser engraving in metro Dresden and far beyond. Contact us for a custom offer.
MOBILE LASER WELDING
PINPOINT ACCURATE WELD SEAMS, EVEN ON HARD-TO-REACH WORKPIECES
In mobile laser welding with the ALPHA LASER ALM 250, we reverse the traditional processing principle — here the tool comes to the workpiece. Thus, even very large components can be processed, even though there would be no room for them in a standard welding booth.
MOBILE LASER WELDING
Laser welding
FAST, EFFICIENT, HIGH-PRECISION
Laser welding is an innovative welding process for joining metal components. Energy is fed through a high-performance laser. Thanks to the high, focused application of energy in a small space, the material melts in fractions of a second — and solidifies again just as quickly. Depending on the order, and the functionality intended for the component, weld seams are made with or without welding filler. At our company, two different laser welding processes are used: pulsed laser welding and CW laser welding.
Laser welding
USES OF LASER ENGRAVING AND INSCRIPTION
Frequently asked questions and answers.
How does laser engraving work?
Deep laser engraving is used in manufacturing stamps or embossing tools, for example. Depending on the material, a liquid and/or gaseous phase is discharged. With short, intense pulses, the material is discharged with almost no heat-affected zone or melt. Often, several operations are needed to reach the desired depth.
With other engravings, both vector- and raster-oriented processing is possible. To get clean, nearly vertical edges, it helps to vary the laser beam's movement direction. (Source: https://en.wikipedia.org/wiki/Laser_engraving)
How does laser inscription work?
Laser inscription means inscribing or marking objects using an intense laser beam. n contrast to laser printing, in which a weak laser beam only controls pigment application to the material to be printed on, with laser inscription, the material itself is changed. The process and energy use therefore depend on the material. Laser inscriptions are waterproof, smudge-proof and permanent. Because they can be created quickly, automatically and individually, the process is good for numbering individual parts. Even small machine-readable markings, such as a QR code or data matrix code can be applied directly to the product. (Source: https://en.wikipedia.org/wiki/Laser_engraving)
What materials can be inscribed or engraved?
Our laser engraving system processes metallic materials.
Laser inscription is suitable for stainless steels, titanium and anodized aluminum alloys.
Laser engraving is good for low-alloy steels, aluminum alloys, brass, tool steels, multi-material bronzes, Ampco and Ampcoloy alloys, tantalum, gold, silver, copper, nickel alloys and steel or gray cast iron alloys.
Is L & A Lasertechnik und Applikationen GmbH certified?
L&A Lasertechnik und Applikationen
SPECIALIST IN LASER APPLICATION TECNOLOGY AND SALES AND SERVICE PARTNER OF ALPHA LASER GMBH IN EASTERN GERMANY
Our welding experience in tool and die manufacturing began in 1990. The technology showed promise for that industry, and as a service provider, we have gained many customers all over Germany through its practical implementation.
With sound knowledge and modern machinery, we meet the needs of customers in industries such as: mechanical engineering, medical technology and sensor manufacturing.
Learn more about us.