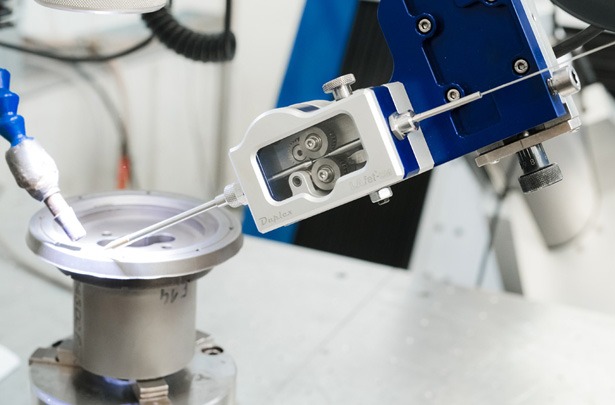 AUTOMATIC WIRE FEED SYSTEMS
PROCESS SAFETY AND ULTIMATE REPRODUCIBILITY OF LASER WELDING WITH OPTIMIZED WELDING TIME
Just like our roller block for welding long, round components, and our turntable for precise positioning, our internally developed wire feed units fill a hole in the process landscape. They provide automatically controlled, constant, consistent wire feed to the laser.
The slip-free feed makes the welding process safer, shortens welding time, and decreases the number of weld seam starts. The process parameters are freely selectable, and operation is intuitive.
LAfet®-SM Duplex WIRE FEED
Slip-free feed of welding wires 0.3–1.2 mm in diameter.
As an automatic welding wire feed, LAfet®-SM Duplex feeds welding wires 0.3–1.2 mm in diameter in a slip-free manner. The wire feed system can be used in both pulsed laser welding processes and in CW mode.
Users especially value the secure wire transport by two power-driven, extremely fine-toothed carbide gears, the high torque through planetary gears, and the pressure roller fine adjustment for defined wire surface groove profile.
With the adjusting frame, the wire axes of the drive's "internal capillary tube" can be set individually to the welding filler diameter used.
The drive unit can be fastened in two different ways: to the laser head with two hydraulic clamping arms and XYZ fine adjustment for direct feed or flexibly using a guide spiral and separately adjustable capillary tube positioning on the focusing lens.
The control logic allows precise adjustment to the laser welding process. Variable speeds ensure precisely timed wire movement at the beginning, during and at the end of each weld.
LAfet®-SM Duplex PRODUCT SHEET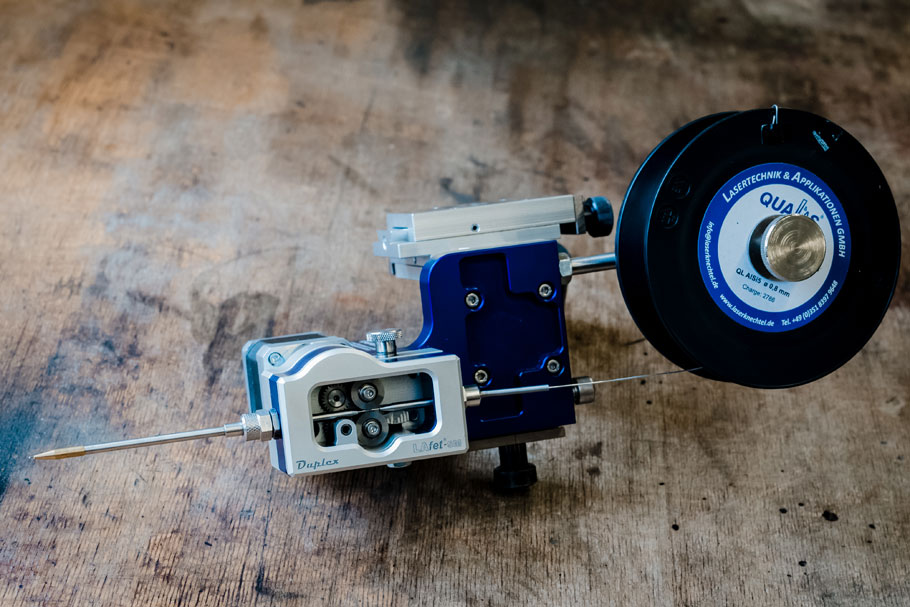 TECHNICAL DATA
WEIGHT
approx. 4.2 kg (not including spool)
WIRE MATERIALS
low- and high-alloy steels, suitable aluminum alloys, bronzes, noble metal alloys
CONTROLS
LAfet®-SM programmable controls
ELECTRICAL CONNECTION
110 – 230 V / 50-60 Hz at 24 VDC
QUESTIONS OR REQUESTS?
We'll be glad to advise you on LAfet® wire feed systems.
Product video LAfet®-SM Duplex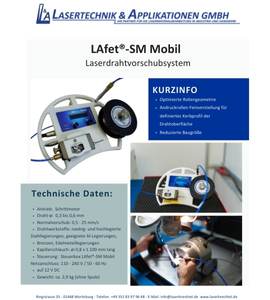 LAfet® SM Mobil
Here you can find the product data sheet for the mobile wire feeding system LAfet® SM Mobil.
product sheet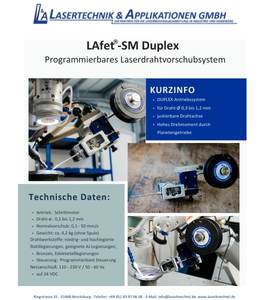 LAfet® SM Duplex
The product data sheet for the LAfet® SM Duplex automatic wire feeder as download.
product sheet
MOBILE WIRE FEED SYSTEM
Looking for a flexibly usable, location-independent wire feed system? Then our LAfet®-SM Mobil system is a great choice.
The laser welding wire is fed into the melt through the LAfet®-SM Mobil handle under direct observation of the laser welder. The wire feed is started or ended by contact or isolation of the laser wire tip with the weld component.
Mobile wire feed system
QUALAS® WELDING FILLERS
A TRADEMARK OF L & A LASERTECHNIK UND APPLIKATIONEN GMBH
You can get the best results in combination with the QUALAS® welding fillers we have developed in collaboration with experienced metallurgists, users and welding filler manufacturers.
On request, we also supply our QUALAS® welding fillers with marking: In this case, the material number according to EN 10027-2:1992-09 is engraved on the wire surface and is therefore permanently recognizable.
QUALAS® laser welding wire
AUTOMATIC WIRE FEED IN USE
L&A Lasertechnik und Applikationen
SPECIALIST IN LASER APPLICATION TECNOLOGY AND SALES AND SERVICE PARTNER OF ALPHA LASER GMBH IN EASTERN GERMANY
Our welding experience in tool and die manufacturing began in 1990. The technology showed promise for that industry, and as a service provider, we have gained many customers all over Germany through its practical implementation.
With sound knowledge and modern machinery, we meet the needs of customers in industries such as: mechanical engineering, medical technology and sensor manufacturing.
Learn more about us.