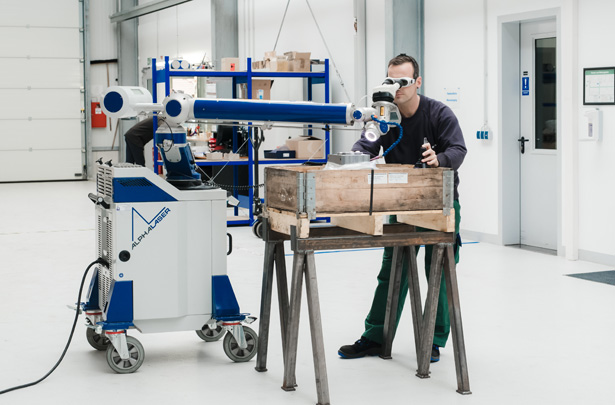 MOBILE LASER WELDING: THE TOOL COMES TO THE WORKPIECE
WHAT'S SO SPECIAL ABOUT MOBILE LASER WELDING?
In mobile laser welding with the ALPHA LASER ALM 250, we reverse the traditional processing principle — here the tool comes to the workpiece. Thus, even very large components can be processed, even though there would be no room for them in a standard welding booth.
With this, for your company we push the limits of what's possible: You can execute projects that previously were neither logistically nor financially feasible. We look forward to your project!
HOW MOBILE LASER WELDING WORKS?
The short path to the mobile laser.
Mobile laser welding can take place at our production hall in Moritzburg near Dresden. Here we have enough room to build a temporary custom laser workstation for your component(s).
Or we'll bring our mobile laser welding device directly to your company, such as when the component is too large or heavy for transport or cannot be dismantled. A power connection is a must.
We unload the mobile laser, make the settings for your component, set up our transportable laser safety wall system, … And off we go!
Thanks to our central location, we can get to you fast. Our production hall is in the industrial park of Moritzburg near Dresden, near the A4, exit to Dresden airport.
How you benefit from mobile laser welding:
Processing of high-volume components or in hard-to-reach locations
No need to dismantle the component
No transport cost
Shorter production downtime
NOTE ON PROTECTION FROM LASER RADIATION
NOTE ON PROTECTION FROM LASER RADIATION
The basis for handing laser equipment is DGUV regulation 11 — Laser radiation (formerly UVV BGV B2) and the technical rules of the Occupational Safety Ordinance on artificial optical radiation — TROS laser radiation. They apply to generation, transfer and use of laser radiation.
Most important in laser beam protection is protection of the eyes against laser radiation, because eye damage is irreparable. We will be happy to advise you on protection measures and laser protection equipment. Just ask us!
Are you interested in mobile laser welding? Just call us, at: +49 351 83979648 or get ahold of us quickly and easily though the contact form.
TIG, MIG/MAG welding
The TIG welding process is used when various materials are to be combined or thin sheets, such as aluminum or stainless steel, need to be welded. The technology is suitable for all metals.
The MIG and MAG welding processes are very suitable for manufacturing or repairing heavy steel constructions, such as auto chassis and body fabrication. If you need repairs or modifications to the components of your motorcycle or classic car, we even take individual orders.
TIG, MIG/MAG welding
LASER ENGRAVING AND INSCRIPTION
FOR DELICATE CONTOURS — DISTINCTIVE INSCRIPTIONS
With laser engraving, high-energy laser radiation marks the surface of a material. The technology can be used for a broad range of materials. Whether it's metals, plastics, ceramics, glass or graphite electrodes, they can all be processed with the laser. Equally diverse are the options for engraving or inscribing individual or serially produced parts.
LASER ENGRAVING AND INSCRIPTION
MOBILE LASER WELDING IN USE
Frequently asked questions and answers.
What does "mobile laser welding" mean?
We use our ALPHA LASER ALM 250 mobile laser welding device to weld at your site. This saves you expensive transport of very large components.
Which laser welding processes do you use?
We offer pulsed laser welding and CW laser welding.
What machines do we use to process your orders?
For laser welding, we use lamp-pumped Nd:YAG lasers (300 W) and fiber lasers (600 W or 900 W) from ALPHA LASER.
In arc welding, we work with TIG and MIG/MAG welding equipment from REHM Schweißtechnik.
For 2D inscribing and 3D engraving, we use a FOBA lamp-pumped Nd:YAG laser engraving system.
What materials can we weld for you?
We weld tool steels, stainless steels, low-alloy steels, aluminum alloys, multi-material bronzes, Ampco and Ampcoloy alloys, magnesium alloys, titanium, tantalum, platinum-rhodium alloys, gold, silver, copper, nickel alloys, steel and gray cast iron alloys.
Which differing pairs of materials can be welded?
Among others, we have done black-and-white joints (low-alloy steel with stainless steel) and copper-stainless steel joints. With deposit welding, it is possible to create functional areas on low-alloy or tool steels with certain multi-material bronzes.
Can cast iron be welded?
There's no one answer to that. In such cases, we decide on weldability based on the variety of alloy types and qualities, the age of the component and its functionality after thorough incoming inspection and a test weld. Most components of the materials mentioned are good for joint and deposit welding Which welding process (laser, TIG, MIG/MAG) is used is evaluated and specified individually. Contact us — we'll be happy to advise you!
Can cast steel or cast aluminum be welded?
Most components of the materials mentioned are good for joint and deposit welding Which welding process (laser, TIG, MIG/MAG) is used is evaluated and specified individually.
What materials cannot be welded with the laser process?
Die-cast zinc, magnesium, molybdenum, tungsten and brass can't be laser-welded.
Can we rework (recontour) welded areas?
Our toolmakers can adjust small areas by hand. For further processing of your welded components, we can recommend partner companies nearby.
Is L & A Lasertechnik und Applikationen GmbH certified?
What internal transport options are available at our site?
– Hall crane with trolley, capacity 3.25 t
– Electric stacker with triplex mast (1.5 t)
– Manual stacker truck (1.0 t)
– Hand pallet truck (2.5 t)
L&A Lasertechnik und Applikationen
SPECIALIST IN LASER APPLICATION TECNOLOGY AND SALES AND SERVICE PARTNER OF ALPHA LASER GMBH IN EASTERN GERMANY
Our welding experience in tool and die manufacturing began in 1990. The technology showed promise for that industry, and as a service provider, we have gained many customers all over Germany through its practical implementation.
With sound knowledge and modern machinery, we meet the needs of customers in industries such as: mechanical engineering, medical technology and sensor manufacturing.
Learn more about us.