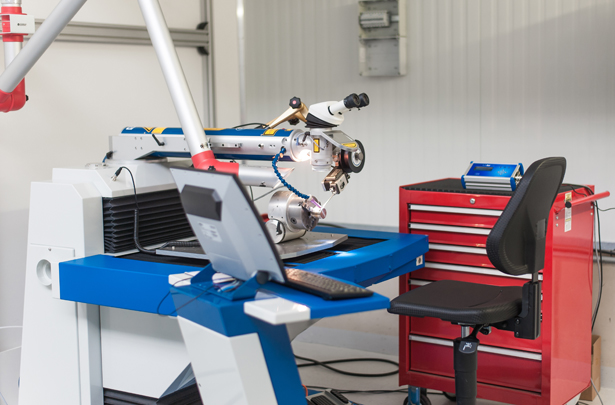 ALPHA LASER: SALES AND SERVICE FOR EASTERN GERMANY
COMPREHENSIVE ADVICE AND FIRST-HAND KNOWLEDGE
As a sales partner, we offer comprehensive advice and first-hand knowledge.
Our production hall in Moritzburg near Dresden also doubles as a showroom. Here you can see mobile and stationary laser welding devices for yourself and arrange to experience them in action.
REQUEST ADVICE
LASER SYSTEMS CUSTOM-MADE FOR YOUR NEEDS
Would you like to use an ALPHA LASER at your company?
We're the sales and service partner of ALPHA LASER GmbH in eastern Germany.
The company specializes in development and manufacturing of laser systems for skilled trades and industrial production — plus, it's a pioneer in mobile welding.
Therefore, L & A GmbH combines the best of all worlds: Expert knowledge on the products of a leading laser system manufacturer, and many years of practical experience as a laser welding provider.
Here you are guided directly to the ALPHA LASER website.
ALPHA LASER GMBH WEBSITE
Because we work with ALPHA LASER laser welding devices day in and day out, we're most familiar with the equipment.
We'll deliver you a laser system precisely made to your specification. We develop the necessary application technology, precisely tailored to your component requirements and the laser system to be used. With two to three days of commissioning and training at your site, we create the conditions for safe routine operation.
You can also download the entire ALPHA LASER GmbH catalog as a PDF.
ALPHA LASER GMBH CATALOG
Would you like to buy an ALPHA LASER laser welding device and benefit from our years of experience in welding technology services? We look forward to your call at +49 351 83979648 or a message from our information request form.
MOBILE LASER WELDING
PINPOINT ACCURATE WELD SEAMS, EVEN ON HARD-TO-REACH WORKPIECES
In mobile laser welding with the ALPHA LASER ALM 250, we reverse the traditional processing principle — here the tool comes to the workpiece. Thus, even very large components can be processed, even though there would be no room for them in a standard welding booth.
MOBILE LASER WELDING
Laser welding
FAST, EFFICIENT, HIGH-PRECISION
Laser welding is an innovative welding process for joining metal components. Energy is fed through a high-performance laser. Thanks to the high, focused application of energy in a small space, the material melts in fractions of a second — and solidifies again just as quickly. Depending on the order, and the functionality intended for the component, weld seams are made with or without welding filler. At our company, two different laser welding processes are used: pulsed laser welding and CW laser welding.
Laser welding
L&A Lasertechnik und Applikationen
SPECIALIST IN LASER APPLICATION TECNOLOGY AND SALES AND SERVICE PARTNER OF ALPHA LASER GMBH IN EASTERN GERMANY
Our welding experience in tool and die manufacturing began in 1990. The technology showed promise for that industry, and as a service provider, we have gained many customers all over Germany through its practical implementation.
With sound knowledge and modern machinery, we meet the needs of customers in industries such as: mechanical engineering, medical technology and sensor manufacturing.
Learn more about us.