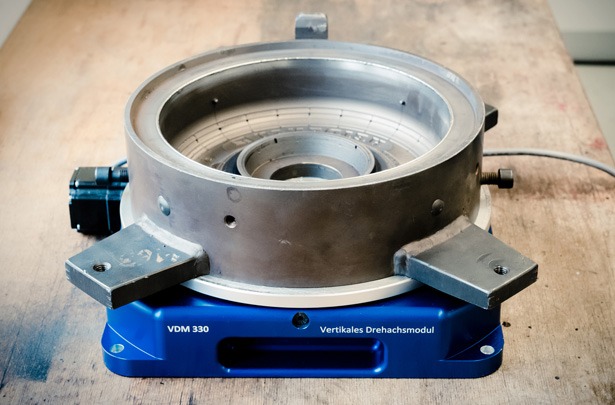 TURNTABLE ("POTTER'S WHEEL")
ARGUMENTS IN FAVOR OF OUR TURNTABLES:
Works like a potter's wheel
Very slow, precise rotation
Fast processing of very large components possible
No hand-controlled movement needed
Uniform weld seam with fewer weld starts
Very light construction
Broad range of applications
VDM 330 PLANAR TURNTABLE
Planar turntable for laser welding large components.
When laser welding large components, the operator has the challenge of moving the laser head uniformly along the component. This can quickly lead to imprecise positioning. With our VDM 330 planar turntable, you can work comfortably even on these components. At a slow rotation speed, the component's movement ensures more precise positioning.
The VDM 330 planar turntable has been specially developed for large components with a rotationally symmetrical course of the laser welding contour, which is usually too large for "normal" rotary axes. Even if the component fits into a "normal" rotary axis, this rotary axis often turns too fast to achieve adequate working speed for large component diameters.
Thanks to its very large gear conversion, the VDM 330 turntable allows comparatively slow rotation speed for more precise positioning of the laser welding wire.
Another advantage: Our welding positioner is compact and doesn't take up much room during laser welding.
The VDM 330 turntable can connect to ALPHA LASER devices ALW, ALT, ALFlak and ALFlakMax with an R-A power control unit present.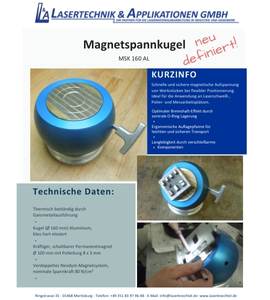 Magnetic holding sphere
All data and information can be found on this product data sheet.
product sheet
VDM 330 PLANAR TURNTABLE IN USE
L&A Lasertechnik und Applikationen
SPECIALIST IN LASER APPLICATION TECNOLOGY AND SALES AND SERVICE PARTNER OF ALPHA LASER GMBH IN EASTERN GERMANY
Our welding experience in tool and die manufacturing began in 1990. The technology showed promise for that industry, and as a service provider, we have gained many customers all over Germany through its practical implementation.
With sound knowledge and modern machinery, we meet the needs of customers in industries such as: mechanical engineering, medical technology and sensor manufacturing.
Learn more about us.