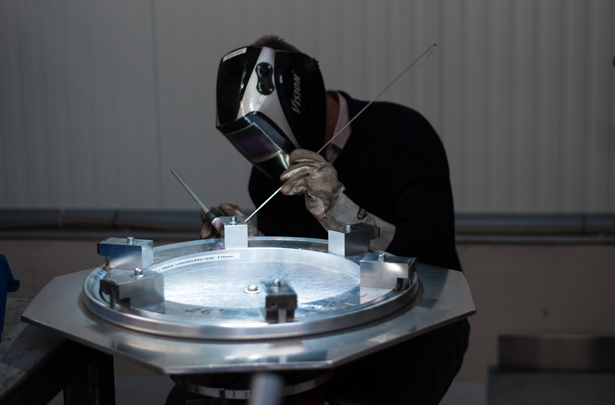 ARC WELDING: TIG WELDING AND MIG/MAG WELDING
Arc welding is a catch-all term for various welding processes for joining metal to metal. The principle is always the same: An electrical arc of light, fed by a DC or AC current source, creates intense heat that melts the metal at the joint between two workpieces.
While TIG welding is used for joining thin sheets, such as aluminum or stainless steel, MIG/MAG welding is suitable for use in welding heavy steel structures. Arc welding technologies are even used when for repairing or modifying parts from motorcycles or classic cars.
WHAT TIG WELDING MEANS?
Tungsten inert gas welding
TIG welding (tungsten inert gas welding) is an inert gas welding process. Energy is applied through a non-melting electrode of pure or alloyed tungsten. The fed welding filler (welding wire or welding rod) joins the workpieces. The arc burns freely between the electrode and the workpiece and is shielded by argon, helium or a mixture thereof (inert gas welding).
The TIG welding process is used when various materials are to be combined or thin sheets, such as aluminum or stainless steel, need to be welded. The technology is suitable for all metals.
TIG welding with DC versus AC current: With TIG welding, there is a distinction between welding with DC and AC current. Most often, DC current is used for welding, where the tungsten electrode is on the negative pole. It is often used when welding alloyed steels or nonferrous metals (such as copper or brass).
TIG welding with AC current is used when welding aluminum and magnesium.
THE DIFFERENCE BETWEEN MIG AND MAG WELDING
Welding with active and inactive gases
The abbreviation MAG stands for metal welding with active gases. Gas mixtures of argon, carbon dioxide and/or oxygen are used. MIG stands for metal welding with inactive (inert) gases. It uses gases like argon, helium or a mixture thereof. In MIG/MAG welding, a melting wire electrode and an inert gas are used.
The two welding processes are very suitable for manufacturing or repairing heavy steel constructions, such as auto chassis and body fabrication. If you need repairs or modifications to the components of your motorcycle or classic car, we even take individual orders.
Are you looking for a reliable partner for all arc welding processes? Our technology, our team and our expertise will lead your project to success. We look forward to hearing from you!
MOBILE LASER WELDING
PINPOINT ACCURATE WELD SEAMS, EVEN ON HARD-TO-REACH WORKPIECES
In mobile laser welding with the ALPHA LASER ALM 250, we reverse the traditional processing principle — here the tool comes to the workpiece. Thus, even very large components can be processed, even though there would be no room for them in a standard welding booth.
MOBILE LASER WELDING
LASER ENGRAVING AND INSCRIPTION
FOR DELICATE CONTOURS — DISTINCTIVE INSCRIPTIONS
With laser engraving, high-energy laser radiation marks the surface of a material. The technology can be used for a broad range of materials. Whether it's metals, plastics, ceramics, glass or graphite electrodes, they can all be processed with the laser. Equally diverse are the options for engraving or inscribing individual or serially produced parts.
LASER ENGRAVING AND INSCRIPTION
USES OF TIG/MIG/MAG WELDING
Frequently asked questions and answers.
What materials can be welded with TIG?
TIG welding is used to process stainless steel, low-alloy steels, aluminum alloys, multi-material bronzes, Ampco and Ampcoloy alloys, magnesium alloys, titanium, copper, nickel alloys, steel and gray cast iron alloys, as well as weldable tool and mold steels.
Is it possible to weld stainless steel with MAG?
Yes, the MAG process is used for the welding processing of steel.
What's the right welding process for thin sheets?
For thin sheets, laser welding or TIG welding are used. When selecting technology, material thickness and component geometry must be considered.
Can you also weld steel with MAG?
Yes, the MAG process is used for the welding processing of steel.
Can cast steel or cast aluminum be welded?
Most components of the materials mentioned are good for joint and deposit welding. Which welding process (laser, TIG, MIG/MAG) is used is evaluated and specified individually. Which welding process (laser, TIG, MIG/MAG) is used is evaluated and specified individually.
Is L & A Lasertechnik und Applikationen GmbH certified?
L&A Lasertechnik und Applikationen
SPECIALIST IN LASER APPLICATION TECNOLOGY AND SALES AND SERVICE PARTNER OF ALPHA LASER GMBH IN EASTERN GERMANY
Our welding experience in tool and die manufacturing began in 1990. The technology showed promise for that industry, and as a service provider, we have gained many customers all over Germany through its practical implementation.
With sound knowledge and modern machinery, we meet the needs of customers in industries such as: mechanical engineering, medical technology and sensor manufacturing.
Learn more about us.